In an exclusive area of London, from the outside this terraced property looks like any other – but behind the facade we built an award-winning interior.
The Chartered Institute of Architectural Technologists (CIAT) is the lead qualifying body for Architectural Technology. On this page are the highlights from the 'Alan King Award' for building and architectural excellence, awarded in 2013 to us for the rebuilding and refurbishment of a property in Montpelier Terrace.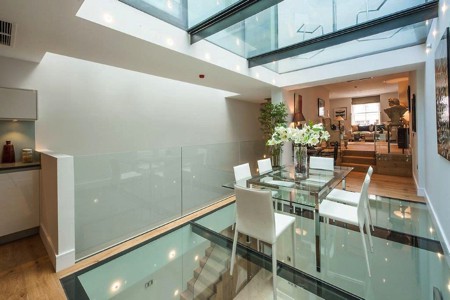 Transformation using light and skill
Located within a Knightsbridge Conservation Area, this property in its original configuration did not fulfil the client's needs or expectations in terms of size, layout or decoration. Therefore a simple refurbishment would not have sufficed.
What they said
In the critique of the redevelopment it was said that a high level of workmanship had been achieved "on the project throughout with bespoke joinery, glazing and plastering details filtering through the entire build."
CIAT
Chartered Institute of Architectural Technologists
Representing those practising and studying within the discipline, the Montpelier Terrace project was awarded the industry's highest honour.
Receiving this accolade is recognition of the work we do and the manner in which we approach the work, from the planning stage to the finishing touches.
Hidden behind busy streets in the centre of London is this beautiful property which anyone could fall in love with.
The facade of this property is like any other in this prestigious area of London, inside though is a stylish oasis of calm.
Wherever and whatever we are employed to build, we apply the same high level of skill, quality, care and focus.